USD 243 will start 2 hours late on Thursday 1/6/22. Wind Chills are predicted to be minus 15 to 20 below zero.
Waverly Schools will close due to illness on Friday 12/17/21. Daycare will be open. Lebo will be open.

Hello Lebo-Waverly patrons! We hope that you are all well! In the new year, there have been some changes made to the district calendar. January, 17, February 7, and April 18 were all scheduled to be early dismissal days. These three days have been changed to NO SCHOOL day! Teachers and staff will have all day inservice on these days! NO SCHOOL ON JANUARY 17, FEBRUARY 7 AND APRIL 18. Please contact your school if you have questions!

Pediatric COVID vaccine is here! Coffey Health System is making it easy for parents who choose to vaccinate with two afterschool clinics! Monday & Tuesday, Nov. 22 & 23 3 - 6 p.m. Burlington Elementary School Gym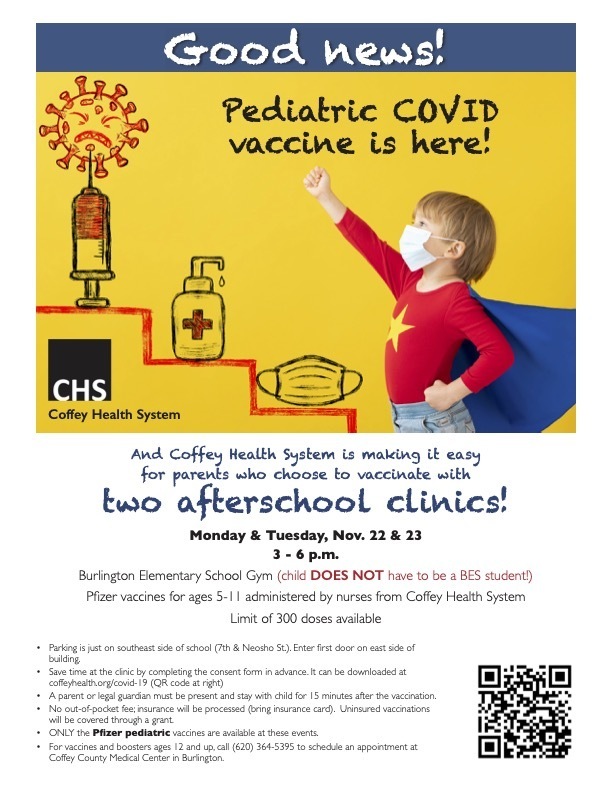 There is a Covid Vaccine Clinic Monday and Tuesday at Burlington Elementary School from 3 to 6 pm for children ages 5 to 11. 300 doses are available. No out of pocket insurance will be billed. Early registration is available. Information is available: coffeyhealth.org/covid-19
Lebo Daycare and Preschool will close until after Thanksgiving break. This is a Covid 19 precaution. There has been a confirmed case among our early childhood programs. Please be on the lookout for Covid 19 symptoms if your child attends Lebo Daycare or Preschool.
Waverly Grade School will be closed Thursday and Friday November 11th and 12th. We are experiencing higher than usual absences due to several types of illness. This includes daycare and preschool. We apologize for any inconvenience. All other district schools will be in session.
Waverly Grade School is experiencing more absences than usual due to covid, Influenza, a stomach bug, and doctor's appointments . In order to remain open Waverly Grade School will require masks to be worn for the remainder of this week. If you are feeling ill, please stay home.

USD 243 Lebo-Waverly has been Awarded with National Empowered Seal Designation for Commitment to Whole-Child Education through EVERFI USD 243 Lebo-Waverly exemplary commitment to whole-child education has led it to earn the annual EVERFI Empowered Seal. This recognition acknowledges Lebo-Waverly's dedication to providing an evidence-informed education that prepares students for success in the real world. USD 243 successfully implemented a wide range of programs and services in the 2020-2021 school year focused on critical skills such as financial literacy, social-emotional learning, health and wellness, inclusion, college and career readiness. This honor is awarded by EVERFI, a digital education organization focused on helping educators address the most challenging issues affecting society.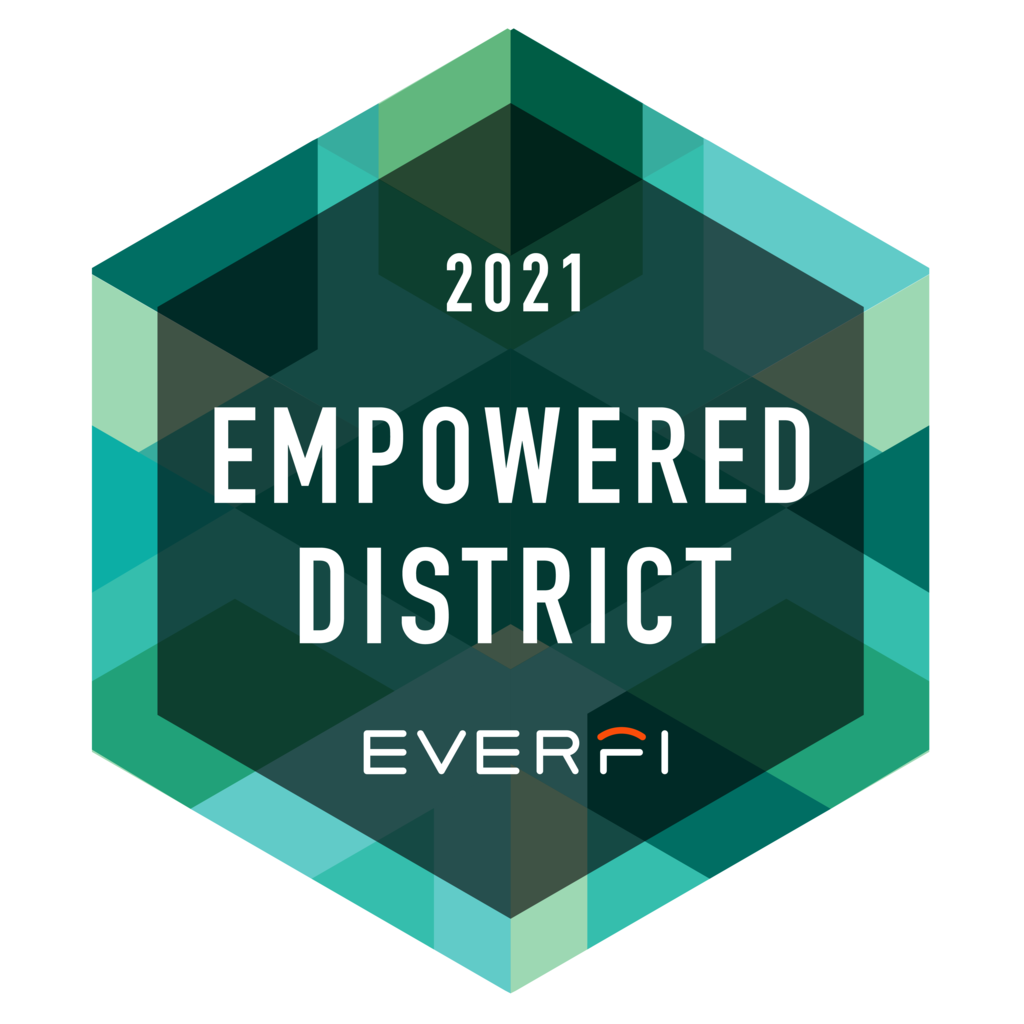 To accommodate State Volleyball attendance, USD 243 including daycare will close Friday October 29. Congratulations Lady Wolves! Good Luck at State! Sincerely, Mr. Reese and the USD 243 Board of Education.

Request for Proposal Lebo Waverly is seeking bids for the listed hardware regarding the proposed Hosted Private Branch Exchange (HPBX) phone system supported by MT Networks, please find the estimate options: Bids must be submitted in a sealed envelope by 4:00 p.m. Thursday, November 4, 2021. Please Submit bids to: Lebo Waverly USD 243 Attn: Corey Reese, Superintendent 411 Pearson Waverly Kansas 66871 Polycom VVX 311 installed X Qty 83 $____________ Polycom VVX 411 installed X Qty 10 $____________ Polycom VVX Expansion (sidecar) installed X Qty 6 $____________ Patton Gateway installed X Qty 1 $____________ ATA installed X Qty 4 $____________ 48 Port POE+ Switch installed X Qty 2 $____________ 24 Port POE+ Switch installed X Qty 2 $____________ 8 Port POE+ Switch installed X Qty 3 $____________ Hardware Total: $____________ Bidders must comply with all State, Local, and Federal Bid Requirements. USD 243 retains the right to refuse of any and/or all bids. Printable bid form can be downloaded at the link below.
https://5il.co/10t8p
A sink hole developed on the Lebo school playground yesterday. There is a basement of a house that had been torn down years ago. The hole was within the basement area. The hole has been repaired. Sincerely, Mr. Reese

USD 243 has a variety of weight lifting equipment that will be sold by sealed bid. Bids will be opened on October 20. Please use the sheet on the link below to complete your bid.
https://5il.co/zocb
SEVERAL FINANCIAL AID HELP DOCUMENTS WERE ADDED TO THE SENIOR INFORMATION FOLDER. SENIORS AND SENIOR PARENTS MAKE SURE TO CHECK IT OUT! Don't forget Coffey County FAFSA completion night is Thursday, October 7th 6-7:30 p.m. at Burlington HS. Come get help filling out your FAFSA.

Lebo Waverly Unified School District #243 September 20, 2021 Dear District Patrons, I am taking this opportunity to share with you a few things that are ongoing and forthcoming within Lebo and Waverly Schools. • District and Building Communication Assessment • Building Needs Assessment for Teaching and Learning • Building Leadership Teams • District Leadership Team • Teacher Collaboration Building and District • Multi-tiered System of Support or MtSS • Professional Learning Communities • "Leading for Impact" Training USD 243 is currently engaged with significant initiatives designed to improve your schools. Your Teachers and Administrators are working hard to make sure your child gets the best education that we can provide. Listed above are some of the pillars of great schools. Site-based school improvement is a constant within our school district and we are committed to constant improvement for you and your family. Please contact me anytime if you have questions or concerns. We have great learning communities and are always here to serve you well. Sincerely, Corey Reese
The Waverly Grade School Water Line will be repaired today. Plan to attend classes tomorrow on a normal schedule. Sorry for the inconvenience.
Waverly Grade School is closed today Monday September 13th due to the water being off at the Grade School building. Please check social media today for further information.

If you have any questions regarding quarantine, COVID antigen testing, close contacts, etc. please contact the building offices or building administration. Classroom teachers may not have the most recently updated information, as it can change quickly.

"Just wanted to share with you that USD 243 has trained personnel and tests/ppe in place to conduct rapid antigen testing. If we have individuals deemed as close contacts who are symptom free with no other Covid 19 positive people in their home or living environment, we may test them daily as an optional alternative to quarantine. While in attendance individuals must test negative daily, these individuals must wear a mask and maintain 6 feet distance from any other person while at school. This process is not a substitute for medical care by a licensed physician and the school must receive parent permission prior to testing. People with one or more symptoms should not attend school. People in contact with other ill people within their home or living environment should not attend school." Sincerely, -- Corey Reese, Superintendent Lebo Waverly USD 243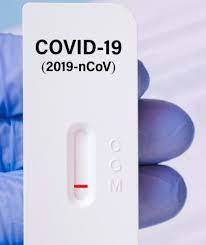 Good evening parents patrons staff and students. USD 243 has active cases of COVID-19 in every building We ask that you please take precautions and make sure that your students are well before sending them to school. COVID-19 is in our schools. In addition, the preschool and day care at Waverly have been infected with a virus. This virus is being looked into by the health department and doctors. Please watch out for symptoms and if you students have symptoms, please keep students home and do what is necessary to help them recover!