USD 243 Lebo-Waverly Schools welcoming the Safer, Smarter Kids program to our district.
Planned power outage is on September 6 not August 6
Evergy has notified us there will be a planned power outage on Wednesday, August 6 from 9:30-10:30am
Good morning, Lebo-Waverly families! Last week, many of you received an invite for Rooms, our new 2-way teacher communication tool. This week you will begin to see your students' classes populate within our Lebo-Waverly App.
USD 243 Lebo-Waverly has a strong focus on attendance. Please see the graphic that explains how much being present at school counts!
Shout out to Emporia State Federal Credit Union for providing lunch to all of the Lebo/Waverly Staff! Thank you to Mr. Ott, Mr. Wallace, and Mr. Hopkins for manning the serving line!
Mrs. Hopkins and her family asked me to inform you about her current health journey. We at USD #243 wish her a speedy recovery.
Free shoes will be handed out to all Coffey County kids on Friday, August 4th from 4 p.m. to 8 p.m. and August 5th from 8 a.m. to 12 p.m. at the following location: The Station 210 Getz; New Strawn, KS. KIDS MUST BE PRESENT TO RECEIVE A PAIR OF SHOES!
(Fingers Crossed) Powerschool online registration is now open for returning students!!!! If you have problems, contact your school office!!! Instructions on how to begin the returning student registration can be found on the schools web sites.
Online Enrollment is still experiencing some problems. Please hold off for a little bit before registering online. We will notify you when it's a Go.
Attention USD #243 patrons! Don't forget to cast your vote in the Board of Education primary tomorrow. Your voice matters in shaping our schools' future. #Vote #Community
Seeking a compassionate CNA to join the Lebo Wolves family! We have a unique role available assisting a student with an Individual Health Care Plan (IHCP). If you're ready to make a difference in a student's educational journey, contact the USD #243 District Office, #EducationJobs #CNA
Passionate about shaping young minds? Join the Lebo Wolves team! We're seeking dedicated Paraprofessionals for the upcoming school year. Reach out to the USD #243 District Office, Burlington CO-OP, or Lebo High School to apply. Let's empower the future, together! #EducationJobs #LeboWolves #Paraprofessional
The WHS main gym will be closed starting today for the next couple weeks for cleaning and refinishing the gym floor. All scheduled workouts, skills, practices, etc. are still taking place but will be in either the weight room or old gym.
Lebo and Waverly Schools have several open positions for Paraprofessionals for the 23-24 school year. Coffey County Special Education Cooperative is hosting a hiring event on Monday, July 10th- Open Interviews. All you need to bring is a resume! Classified staff applications can also be submitted at
https://www.usd243ks.org/page/employment-opportunities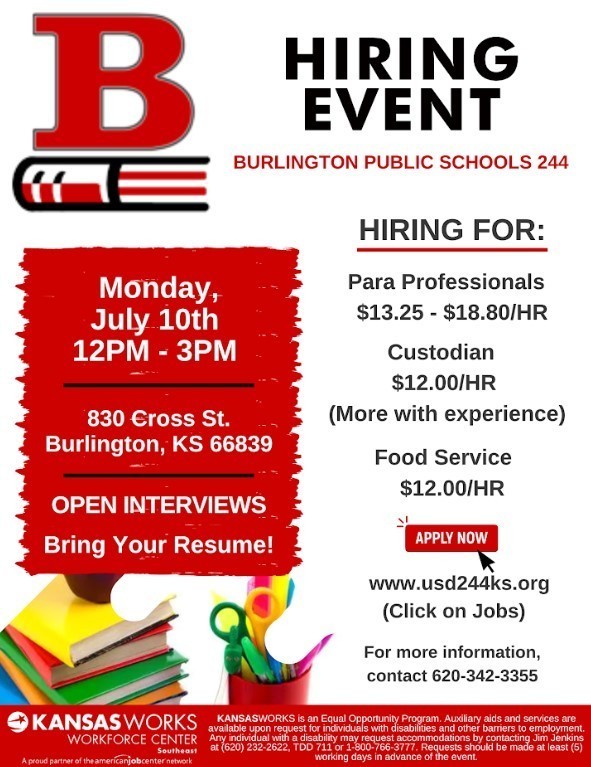 Summer Food Program Tuesday Menu- Biscuit and Gravy, egg patty, tri-tator, Banana and Juice. Come join us 11am till noon. Hope to see you all there!!